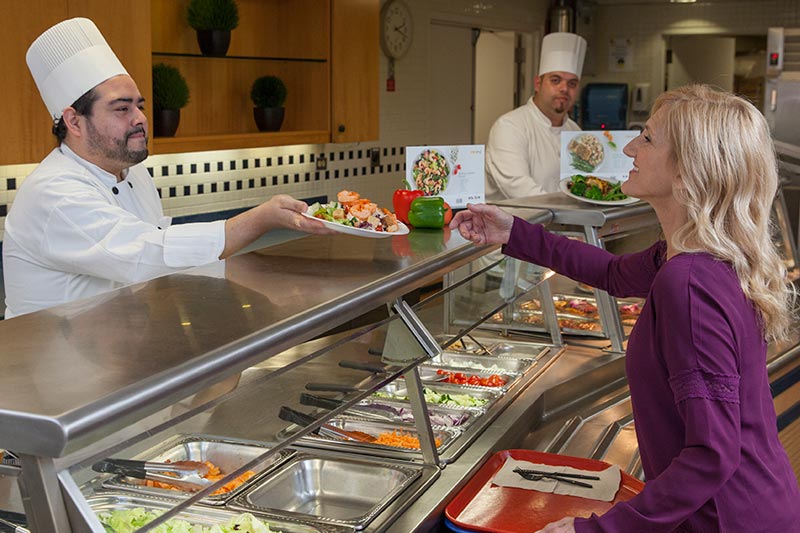 Community First Medical Center houses the Port Café, a spacious and comfortable eating area with many healthy food options. Additionally, there are several restaurants within close vicinity to the hospital.
Port Café
Located in the main building on the ground floor
Offers a wide variety of menu options, including hot breakfast entrees (e.g. made-to-order omelets, hot cereal bar), homemade bakery entrees, made-to-order sandwiches and salads, a Mexican-style grill, snacks, coffee, tea and fountain beverages.
Proudly serves Starbucks Coffee
Vending Machines (accepts cash or coins)
Breakfast
Monday – Friday: 7 a.m. to 10 a.m.
Saturday and Sunday: 8:30 a.m. to 10 a.m.
Lunch
Monday – Sunday: 11 a.m. to 2 p.m.
Afternoon Break
Monday – Sunday: 2:45 p.m. – 4 p.m.
Dinner
Monday – Sunday: 4:30 p.m. to 6 p.m.
The Nutrition Services Department provides a wide range of catering options from the basic continental breakfast or sandwich lunch, to up-scale gourmet dining. Contact the Department of Nutrition and Food Services for catering requests: 773-282-700, ext. 3515
Other vending machines are located throughout the Medical Center. Ask unit personnel for directions to the nearest machines
Available 24 hours a day, seven days a week
Vending machines accept cash or coins, no credit cards
Bob – O – Rino's Subs Website – Map It
Fresh sandwiches and soups
3435 N Central Ave, Chicago, IL 60634
Best Subs & Pizza Map It
Comfort food with burgers, pizza & gyros
5758 W Belmont Ave, Chicago, IL 60634
Cochiaro's Pizza Website – Map It
Serves thin and deep dish pizza, plus single slices
3553 N Central Ave, Chicago IL 60634
Trattoria Porretta Ristorante and Pizzeria Map It
Italian Favorites
3656 N Central Ave, Chicago, IL 60634
Subway Website – Map It
Build-your-own subs and salads
3551 N Central Ave, Chicago IL 60634
Outpatient Nutrition Counseling, call 773-282-7000, ext. 3898
Department of Nutrition and Food Services, call 773-282-700, ext. 3512