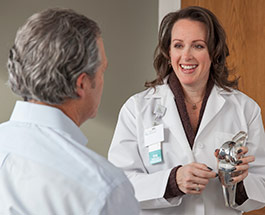 Orthopedic Surgery and Treatment
The orthopedic specialists at Community First Medical Center, diagnose, treat and heal bone, joint and muscle problems. The goal of the orthopedic medical team is to return patients to a healthy, active lifestyle with minimal discomfort and recovery time.
The expert medical team has treated every type of musculoskeletal injury, from everyday occurrences like sports injuries, to more severe or rare skeletal disorders. In developing a treatment plan, the medical team will incorporate a variety of therapies to minimize the need for surgical procedures.
If surgery is required, the least invasive methods are undertaken to reduce discomfort, healing and recovery time.
If you have been referred to orthopedic surgery by another doctor and are seeking a second opinion, schedule a visit with the team at Community First Medical Center. There are treatment plans that can address and relieve your pain that do not always require surgery.
Receiving a second medical opinion can help you choose the treatment plan that is best for you and your lifestyle.
For more information, or to schedule an appointment, call 773-794-4640.
Services
Orthopedic services provided at Community First Medical Center include treatment options for the following:
Spine
Shoulders
Elbows
Wrist and Hand
Hips and Knee
Foot and Ankle
Joint Replacement
Fracture Care
Sports Medicine
Outpatient Clinic