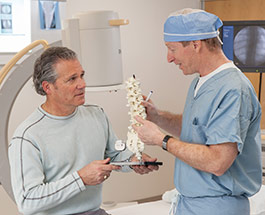 Pain is a debilitating medical condition that can lower your quality of life, and impair your physical and mental wellbeing. The Pain Center at Community First Medical Center offers a range of services to help patients suffering from acute or chronic pain conditions.
The interdisciplinary medical team at the Pain Center provides the most advanced treatment options delivered in a compassionate, comprehensive, and goal-orientated manner.
Patients are treated holistically and a team of skilled specialists delivers your care. The Pain Center medical team includes the following:
Physical and occupational therapists
Psychiatrists and psychologists
Rehabilitation specialists
Nutritional and dietary therapist
Pharmacists
Social workers and chaplains
These medical professionals work together to help return patients to a lifestyle of comfort, independence and mobility. Through the use of physical therapy, medication, rehabilitation or minimally invasive surgical procedures, patients can reclaim a higher quality of life.
The Pain Center is a special clinical focus of the Community First Outpatient Clinic.
For more information, or to schedule an appointment, call 773-794-8314.
Admission to the Pain Center in the outpatient clinic at Community First Medical Center can come from your primary care physician, or through a self-referral.
The interdisciplinary medical team uses a wide range of treatment strategies to help overcome acute or chronic pain conditions, including:
Nerve blocks to interrupt sensory pathways to prevent pain from reaching the brain.
Steroid injections to provide relief from symptoms by reducing swelling and inflammation.
Radiofrequency treatments to prevent pain signals from reaching the brain through interruption of the pain fibers in peripheral nerves.
Implantable devices that deliver medications or mild electrical currents directly to the source to stop the sensation of pain.
An individualized treatment plan is created for each patient at the Pain Center. The medical team recognizes that a pain disorder can also take an emotional and physical toll on the family and loved ones of a patient in suffering.
Creating a holistic, compassionate and goal-orientated treatment strategy requires the input of the patient, as well as their family, or caregiver. The medical team develops a treatment plan to improve everyone's quality of life, and return patients to a comfortable lifestyle.
Both men and women can suffer from several conditions that affect the pelvic organs or region. These disorders create burdens that reduce your mobility and quality of life.
To help patients reclaim their comfort, a multidisciplinary team including board-certified gynecologists, urologists, gastroenterologists, anesthesiologists, and psychologists provide integrated care and individualized therapy.
The skilled team of specialists can help patients overcome the health challenges of incontinence, dysfunction, prolapse and other disorders. Schedule an appointment to learn more about an individualized treatment plan to better manage the challenges of pelvic pain.