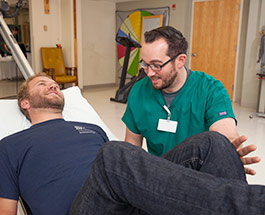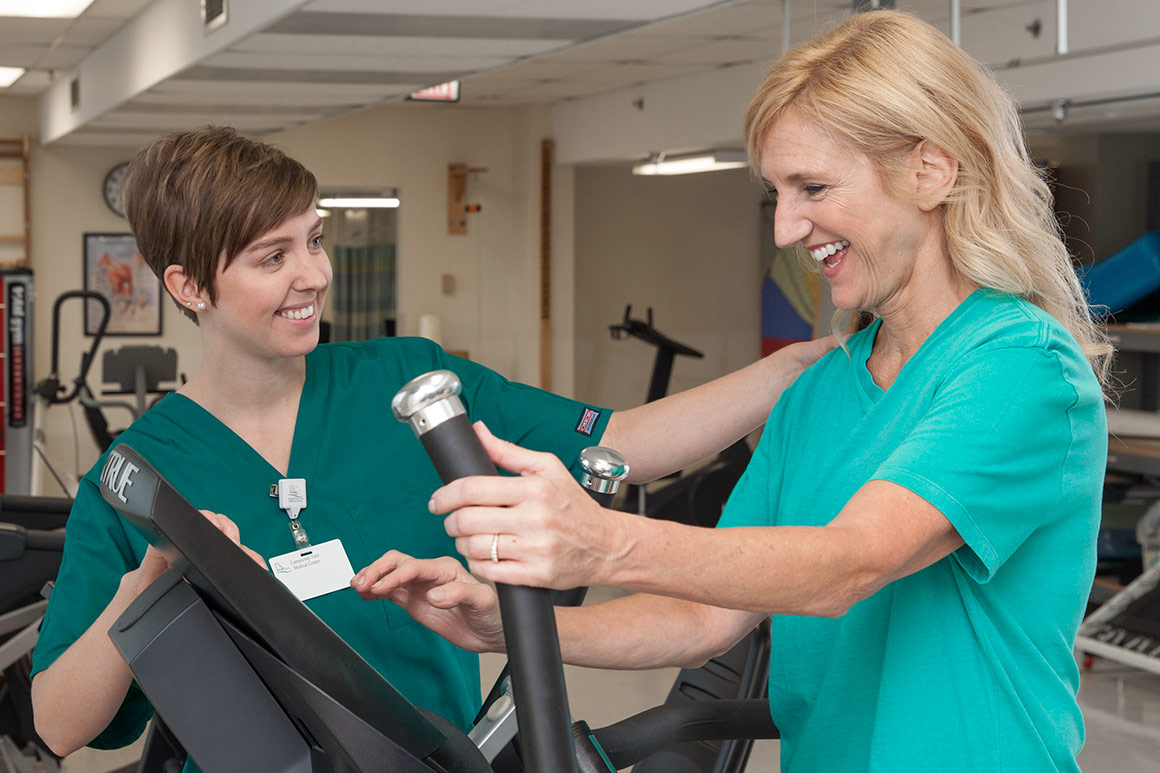 The Community First Medical Center Rehabilitation Center provides diagnostic and treatment options for patients suffering with physical ailments. The Rehabilitation Center helps patients overcome and recover from an injury to their fullest abilities.
All therapists in the center are board-certified, and work to create a caring, supportive and warm environment to promote healing as patients work to regain physical and mental independence.
Returning you to the highest quality of life possible is the goal of the Rehabilitation Center.
Physician Referral Required
A referral from your physician is required before starting rehabilitation services. With a referral, you will be promptly scheduled for your initial evaluation.
For more information, or to schedule an appointment, call 773-794-7690.
The physical therapy team specializes in helping patients regain mobility, strength and function following an injury or illness. The team has helped patients overcome the challenges associated with heart or lung health issues, neurological impediments, or musculoskeletal injuries.
The medical professionals on the physical therapy team also have several areas of specialized clinical expertise:
Balance and Vestibular Center
The Balance and Vestibular Center is designed to treat and improve the quality of life for those with balance and vertigo disorders. Physical therapists at the Center are experts in treatments for the vestibular system and provide individualized sessions for each patient's balance needs.
Lymphedema Management
Lymphedema is a chronic swelling of a body part due to blockage of the lymphatic system. The goal of treatment is to improve body image, increase use of the affected extremity, and teach long-term management of this condition.
Back to Work
The Community First '"Back to Work" Rehabilitation Program is designed to help patients transition back into the workplace. The program includes progressive work simulation, aerobic conditioning, strengthening exercises, instruction on correct body mechanics and lifting techniques, and home exercise activities to return the patient to the demands of their job.
The Occupational Therapy Program provides treatment to improve range of motion, flexibility and strength for patients from a physical or neurological condition. The goal is to help a patient gain the highest level of independence in daily tasks at home and at work. Therapies include those for:
Hand, wrist, elbow and shoulder injuries
Repetitive injury, including treatment for Carpal Tunnel Syndrome
Neurological disorders including stroke, Parkinson's disease, and brain injury
Peripheral nerve injury
Arthritis
Adaptations for work, home and leisure activities
Ergonomic assessment and injury prevention
Helping patients achieve maximum communication and swallowing function is the focus of a skilled team of specialists at Community First Medical Center. Speech therapy treatment includes an initial evaluation and rehabilitation services focused on cognitive disorders, language, speech and swallowing disorders.